Gabrielle Finley-Hazle
President & CEO, Dignity Health Arizona
Central and West Valley Market
CommonSpirit Health
Gabrielle Finley-Hazle is a board member and a Healthcare CEO. She currently serves as the President and Chief Executive Officer of Dignity Health Arizona Central and West Valley Market, which includes Dignity Health St. Joseph's Hospital and Medical Center, Dignity Health St. Joseph's Westgate Medical Center, the Barrow Neurological Institute, the Norton Thoracic Institute, and several outpatient and satellite operations throughout the greater Phoenix area.
Finley-Hazle leads a team of more than 6,000 employees, physicians, clinical providers, and scientists who are dedicated to providing excellent patient care and improving the quality of life in our community. She is a servant leader who focuses on addressing social determinants of health and healthcare disparities through systems of care. She is passionate about health equity and innovations in care.
With more than 20+ years of experience in healthcare management and leadership, Finley-Hazle has served in executive positions in investor-owned, not-for-profit, as well as faith-based healthcare systems. She holds a master's degree in health care administration from Cornell University and a bachelor's degree in human biology, health, and society from Cornell University.
Finley-Hazle has been the recipient of several awards and recognitions including Top 25 Most Prominent and Influential Women in Business from Legacy Magazine, Top 15 Hospital and Health System Leaders from Becker's Hospital Review, and the Goldman Sachs Leadership Award. Most recently she has been recognized with the 2022 Women Leaders of the Year by Arizona Capitol Times, 2021 Pandemic HEROES Award from Cornell University, and 2021 Outstanding Achievement in Leadership Award from AZ Business Magazine.
Finley-Hazle previously served on the Homeless Coalition of Palm Beach County Board of Directors and was a Founding Board Member for Northend RISE, a purpose-built community. She currently serves as the Vice-Chair of the Creighton University Arizona Health Education Alliance Board, the largest provider of graduate medical education in the state of Arizona. She is also a Founding Board Member of a joint venture with international partners to reduce risk and create independence in the healthcare supply chain. Gabrielle has worked with boards on implicit bias and anti-racism training and chartered the first Community Benefit and Health Equity Board Committee. She also achieved two Board Governance certifications through the Silicon Valley Executive Center in California.
She is a mother, a wife, and a woman of deep faith. She enjoys volunteering in the community, dancing, reading the bible, and spending time with her family.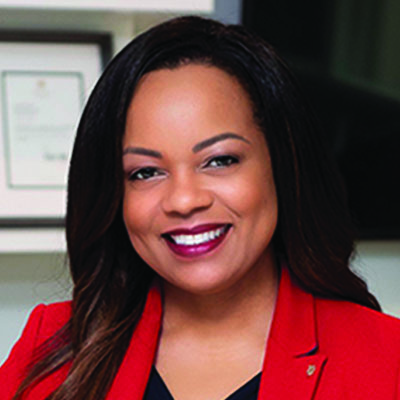 Learn more about Extraordinary Women Leading Change