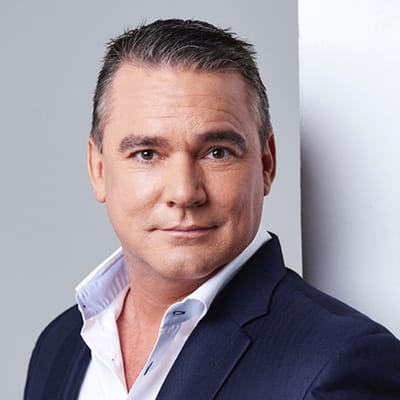 Brett Beveridge
Founder & CEO,
Brett Beveridge is a serial entrepreneur who thrives on building businesses from the ground up and prides himself on being at the forefront of technology. Since founding The Revenue Optimization Companies (T-ROC), the Founder/CEO has helped propel the parent company of six brands to become a leader in the wireless, electronics, software and retail industries, assisting many big-box retailers and Fortune 500 companies such as Apple, Sprint, AT&T, Walmart, Comcast, and many more. Beveridge believes in combining people and technology to help companies reduce costs and increase sales whilst always exceeding customers' expectations.
Beveridge learned the value of hard work from a young age, performing various jobs from waiting tables to even working in a papaya field. At just 23 years old, the University of Miami graduate started selling cell phones out of a van with a college friend, and impressively turned that bootstrap company into Let's Talk Cellular & Wireless, which became the largest independent mobile wireless retailer in the country at the time with close to 300 stores nationwide.  He would eventually take that company public and sell it to Nextel.
Beveridge would continue to harness his entrepreneurial spirit, raising millions from national venture capital firms like Goldman Sachs, to co-found LetsTalk.com, which became one of the largest online e-tailers of wireless products and services.  In 2012, LetsTalk.com was acquired by Brightstar Corporation, the largest wireless handset distributor in the world.  Over the last 20 years, Beveridge has successfully founded more than 20 companies and used his experience to help national wireless and technology companies with reorganization, profit turnarounds, mergers and acquisitions, and IPOs.
As a top leader in his field, Beveridge is the Chair of the Consumer Technology Association's Wireless Board, which meets throughout the year to discuss critical issues facing the industry and devise solutions. He is the past chair of The Young Presidents Organization (YPO) of Miami, where involvement allows him to foster long-term personal and business relationships and offer ideas and strategies to other business leaders in various fields.
Helping others succeed translates from Beveridge's professional life to his personal life. For more the last 15 years, he's been heavily involved with Big Brothers Big Sisters Miami, helping to match at-risk kids with dedicated mentors. He is a past chairman and is currently on the Foundation Board, where he devotes his time to raising money and awareness of the charity.  Beveridge also proudly serves on the Orange Bowl Committee with a focus on helping underprivileged youths and rebuilding distressed communities. The University of Miami alum is on the university's President's Council and Citizens Board and has mentored college students as a volunteer in the past. His personal goal is to help shape young lives and offer them a better future.
In his spare time, you can find Beveridge golfing or on the water with his wife and three daughters, indulging in boating, fishing or snorkeling. The longtime Coral Gables resident enjoys walking to breakfast on the weekends and sampling new restaurants and experiences around South Florida.