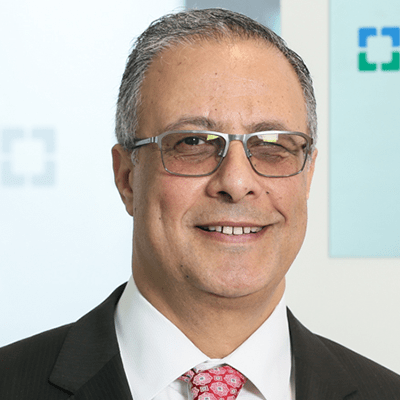 Nabil Tadross, MD
Director of Concierge Medicine
Cleveland Clinic, FL 
Nabil Tadross, M.D., a board-certified internist and longtime advocate of quality improvement in medicine, is looking forward to sharing his passion for patient care as the leader of Cleveland Clinic Florida's Concierge Medicine Program. Dr. Tadross, who led a large primary care practice in Ohio, most recently held joint appointments as Associate Medical Director at Cleveland Clinic's Richard E. Jacobs Family Health Center and as a Clinical Assistant Professor of Medicine at the Cleveland Clinic Lerner College of Medicine of Case Western Reserve University.
In addition to internal medicine, Dr. Tadross' distinguished background includes research and training in diagnostic radiology and family practice. After receiving his Medical Degree and a Master of Science degree in Egypt, he completed a residency and practiced as a radiologist before relocating to the United States for a position as a visiting resident in Internal Medicine at the Cleveland Clinic Foundation.
Dr. Tadross went on to complete an internship and a residency in Internal Medicine in 1997 at Western Reserve Care System, Youngstown, Ohio and began his community-based practice in Ohio. During the last few years, he has collaborated on a number of clinical research studies, most recently in the area of arthroscopy in the geriatric population.
Regardless of the setting, patient care is his passion, for which he has earned recognition as a top doctor by Cleveland Magazine for 2015, 2016 and 2017. For the last decade, he served as a professor at the Cleveland Clinic Lerner College of Medicine of Case Western Reserve University. Dr. Tadross found it particularly fulfilling to train and mentor interns and residents. He considered it an obligation – and a privilege – to train new physicians on the importance of building a rapport with patients. In his decade-long tenure with Cleveland Clinic, Dr. Tadross initiated and led quality improvement programs with medical and nursing staff, introduced the idea of metrics to the practice, and served as Chair of Medicine and as a leader in Quality Improvement programs at Cleveland Clinic's Avon Hospital.
When not practicing medicine, Dr. Tadross enjoys spending time with his wife, two teenage children and the family's Yorkie, reading books on myriad subjects both fiction and non-fiction, following professional soccer and collecting antiquarian books on medicine.